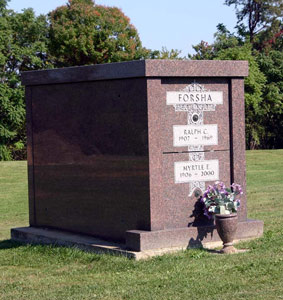 Cemetery Services
The Blairsville Cemetery offers a variety of lot purchase options to accommodate the diverse needs of area residents.  Lots are available as single grave lots, companion lots, small family lots and family estate lots.
Lots are located throughout the lush, greenery of the Cemetery's 35 acres, with some available in the older sections of the Cemetery, as well as the newer sites presently being developed. The optimum time to purchase a desired lot is in advance of a death, as it will enable the Cemetery staff to meet the desired needs of the lot owner and/or their family.
Cremation services at the Blairsville Cemetery are discussed with the family or friends of the loved one to meet the expressed desires of the deceased.  We offer many cremation options for the care and personal treatment of the loved one's remains.
Cremated remains can be interred on the Cemetery grounds, presented to the family or scattered according to designated personal wishes.  The Blairsville Cemetery staff can discuss the various options with you, your family and the funeral home professionals based on personal desires and beliefs.
Ownership of a lot at the Blairsville Cemetery provides for perpetual care – a lasting tradition since the Cemetery's inception more than 150 years ago.  Our dedicated staff takes extreme pride in tending the Cemetery grounds, and strives to maintain and enhance the beautiful dignity of the landscape. 
The Blairsville Cemetery retains in its permanent records the death notices and information regarding known interments since the Cemetery's inception in 1853.
The death notices and records are available for retrieval through several methods.
Interested individuals should first contact the Blairsville Historical Society that also maintains and archives community death records.  Please visit www.blairsvillehistoric.com for more information.
The Blairsville Cemetery staff and volunteers can access the Cemetery's stored records located onsite. Please contact the Cemetery office to request information. The office is available with help in conducting a search for a minimal fee of $25.00 payable to the Blairsville Cemetery in advance before research is conducted for individual and/or family name records.
Donate a Burial flag, 5x9 flag or full size flag to the deceased Veteran flag fund.
Please contact Jim Kissock for this donation.
724-459-9255