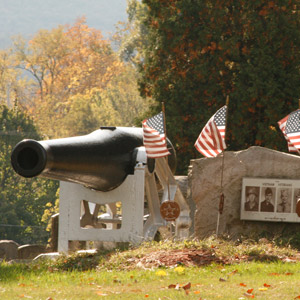 Our Veterans
The Blairsville Cemetery has a time-honored heritage of recognizing veterans in fighting for the nation's beliefs and values during times of war. Today, the Blairsville Cemetery is the final resting place for more than 4,500 veterans and heroes dating back to the Revolutionary War and up until the current Iraqi/Afghanistan conflicts. 
On four major holidays each year, the Cemetery honors its veterans.  On these occasions, The VFW & The American Legion – in cooperation with the Cemetery staff and friends – hoists more than 800 full size flags, an increase from 700. These flags are displayed on the great lawn on both sides of the main entrance.
The annual Memorial Day Parade concludes on the Cemetery grounds with prayers, remembrances and formal gun salute.  To commemorate interned veterans, local volunteers place more than 4,000 individual flags on veteran graves.
Click Here For The Blairsville Veterans' Memorial Flags Roster